"Just because we can't see angels doesn't mean they do not exist. You must realize that your realm of experience is just an infinitesimal part of creation. There is an invisible veil that separates us from a more subtle astral world of light, color and energy. Beyond the astral, there are more subtle worlds of joyful thoughts and formless bliss that we cannot see with our senses. Our human consciousness is but a drop of this formless bliss."             Brother Satyananda,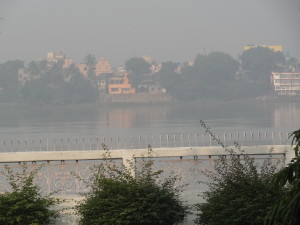 Written in February, 2008
Yogoda Satsanga Retreat
Dakshineswar, India
Storm Over the Ganges
As a gardener, I had longed all week to ask permission to water the flowers here at the Dakshineswar ashram. They seemed to yearn for it. The dust covered trees look tired and thirsty. Their leaves have no turgor, but water is a luxury in India. I am a guest here and don't know what might be appropriate.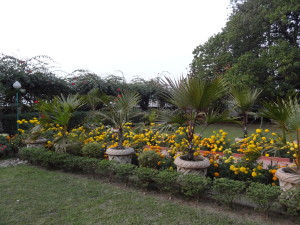 All afternoon the clouds dance a slow motion choreography—forming and reforming, billowing into mounds that tease a promise of moisture and relief from the heat. I walk to the small temple off the portico for the 4 PM meditation.
The first time I walked into this temple my body shivered, and I knew I had been here before–the blue carpet and little chairs that fit me perfectly. I love the sincerity of the brahmacharis (monks in training) who conduct our meditations and the very humorous way they pronounce the English language. There is more ceremony and ritual here in India.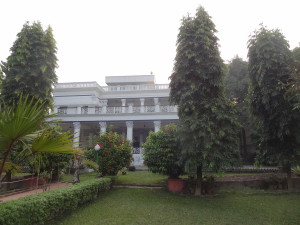 Meditating in this little temple makes me feel divinely happy.
Soon, however, the weather pulls my concentration out the windows. Thunder rumbles in the distance. Perhaps it is just more fireworks. There are so many celebrations in India. The breeze coming through the window has more moisture in it, and the thunder is quickly becoming serious. As twilight settles over the Ganges, I can see flashes of lightning through closed eyes. The whole room fills with light.
The next thunderbolt startles me, and I jump two inches out of my seat. I give up. I can't contain myself any longer. The smell of coming rain and damp dust on the trees lures me outside, and I gather my things and quietly step out of the meditation room.
I race below the portico into the garden where no one can see me behave improperly. Indian women always act in a refined, gracious manner, but I feel insuppressible and can't stop from twirling and dancing –swept up in the currents of cool refreshing wind.
It's not my imagination. I can feel the anticipation of the trees and plants. Their leaves shimmy and dance in the wind like playful children.
An electric presence in the air bathes me in, what to call it, "Joy!" Before meditation at the Yogoda Satsanga Society we often sing a chant called "Joy, Joy, Joy." I've sung it for many years, but until this moment "joy" had been just a word to me.
My body feels like it's ready to burst with this great empathy for the earth and plants. I remembered my five year old daughter. On Christmas morning many years ago, she climbed into bed with us at 4 AM. "There's a bicycle under the Christmas tree," she exclaimed with so much exuberance I thought her little body would literally explode.
Could this feeling be contained within the walls of my skin?
It is quickly getting dark. Thunder cracks overhead just above the tree tops. Then, like an overfilled water balloon, the clouds burst and pelt the earth. Winds are swirling around me in gale force ferocity. I am getting soaked.
A young monk comes out of the darkness. With no judgment in his voice and a smile on his face, he says, "You'd better come inside. This could get worse."