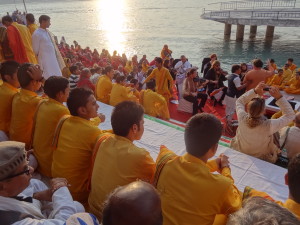 Before leaving Rishikesh we did catch an afternoon aarti on the Ganges. Aarati is devotional singing on the steps (ghats) that lead to the river. The Austrian Ambassador was visiting with a Chamber Orchestra that day. It was a symbolic celebration– kick off to a program blending the waters of the Danube and the Ganges to purify the Ganges, and a blending of the music of East and West. The director of the Vienna Boys Choir was there. He led some of the young students in chanting. The boys in the picture in yellow all came from poor families and the Parmath niketan ashram is providing their education and a place to grow up. In typical Indian style, there was much officious and long winded ceremonies.
Our Lichtenstein friend went with us. We were squeezed together on the steps. She and I admired the sarees of the Hindu ladies behind us (it was also some kind of a ladies day celebration), and then we were all buddies. Language is only one way to communicate– pointing, laughing, pantomime and a lot of thank yous says a heck of a lot. I think they saw me telling Dave what to do,(NO, not me) so they tapped me on the shoulder and pointed to the men standing in front of us, blocking our view. Once I stood up and asked the men to sit down, those women were patting my head and hugging me. They wouldnt have dared do that themselves.
Jaipur
Our first evening here David and I took a tuk tuk to walk around the Rambagh Palace which is currently a hotel. Before coming to India I read a book called, A Princess Remembers, by Maharini Gayatri Devi. She was the third wife of the last Maharajah of Jaipur and this was one of the palaces that they lived in. A tourist book told us that if you tell the guards you want to go to the "Polo Bar" for appetizers and possibly have dinner they will let you in the gate. It runs somewhere in the neighborhood of $500 to a $800 to spend the night. The guards telephoned ahead, I'm sure, to let the footmen and hostesses know two unregistered guests were walking around. Everywhere we went someone would ask, "May I help you mam? " Do you need anything?"
It was truly beautiful, but more opulent than anything I've ever seen before. I especially liked the smoking room for men—red and gold paneling, velour couches and chairs surrounding a fireplace. As we were leaving, the footman/bellboy asked if we would like to ride out to the gate in the Maharini's car. It was, as you can see in the photo, a 1937 Ford convertible.
She wasn't just a glamorous, wealthy woman. She ran for public office, started several girl's schools, and cataloged much of the treasures to be preserved for the public in her other palace. The Maharajah willingly gave up his kingdom in order to achieve unity for India after independence.
Guess I have some lingering desire for luxury, but I think maybe this cured it. Tee hee
We spent the last days of our visit here at the Diggi Palace Hotel. Smaller palace with lovely garden for breakfasts and lunches. Lots of families and people from all over the world traveling. this 300 year old building is a little run down but has more trees and birds and nature than any other place we've been to. Around the ceilings and walls are delicately painted borders. I thought they had to be stencils as they are so precise, but was able to watch one of the painters who was called in to spiff up some of his work. There is an internationally known writers' conference here once a year.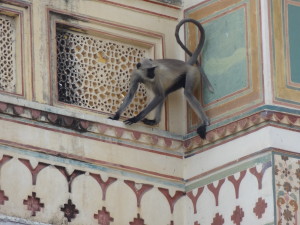 Also visited the Amber Fort which was the setting for the film, Jodha Akbar. A small textile museum near there is working to maintain the local embroidery, block printing and tie dyeing that families have done in Rajasthan for centuries.
We flew to Kolkata and as we were landing, you could see the fireworks of Divalli lighting up all over the city. Quite spectacular to see them from above. I told you (in previous story) there is a surprise around every corner in India. Also have a mysterious, itchy rash which is not such a pleasant surprise. Tee Hee