Meandering through Markets
Chiang Mai, Thailand
Now that the holidays are over, I'm starting to get the Covid Blues or maybe it's the Cooped Up Blues.  Memories of past adventures make me happy and give me hope. And then there's always my favorite past time (I'm sure it might be yours as well)  EATING!  I thought you might enjoy this little memory and recipes from Thailand.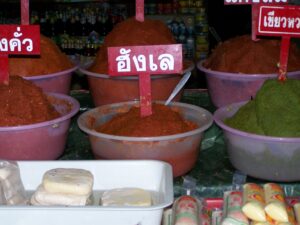 I felt like a 5 year old in my first candy store when our cooking class in Chiang Mai meandered down a narrow lane to a small morning market. This was nothing like our clean and orderly Farmers Markets back home. It was a multi-sensual extravaganza. On one table I found mountains of mushrooms, piles of shallots and garlic, green and bulb onions. Further on, there were mounds of red and green curry and the less piquant, penang curry. One merchant had greens I didn't recognize and eggplants the size of ping pong balls.
For our cooking project our teacher/guide put on a plastic glove, shook off the water, and weighed a bagful of fresh mung beans. She did the same thing to squares of fresh tofu that floated in a plastic tub of water.
Wandering into the back of the market I met an ancient beauty. I will never forget her. Sitting on a 5-gallon bucket next to her daughter, she busily snipped the stems off small chilies. Her skin was more wrinkled than the clothes I forget in the drier, but when she smiled at me her face was radiant.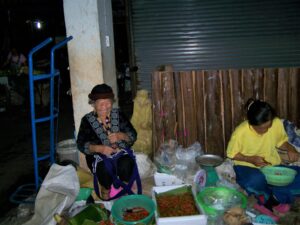 I pointed to the camera to ask if I might take a photo. She adjusted her cap and flashed a sheepish, toothless grin giggling with her daughter like two adolescents.
Moving to the fish section of the market was barely on the edge of tolerance. I don't mean that it wasn't clean. The whole market was just raw and in your face. Dried fish heads smirked at me as I squeezed through the narrow aisles. The concrete floor was so sticky and slippery my imagination wandered to places that my stomach was reluctant to go.
There is no fresher fish anywhere in the world than here—well, they're still alive. A Ford pick-up, loaded with giant oil drums, backed into a fish stall. They were filled with splashing, frantic fish.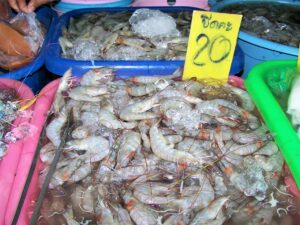 The most potent smell I'd ever experienced in my life was the fish and shrimp pastes. Most Thai dishes utilize these essential flavors, but it's probably best to hold your nose when you open the bottle.
Each of us had our own wok and cutting board. The cooking school, Asia Scenic, was a dream come true for two lovely sisters. Held in their home, they shared with us not only techniques of cooking but the history and traditions of ingredients and their culture.
Though Thai cuisine has complex, incredible flavors; trust me, preparation is simple. It is always best when stir frying to have all your ingredients previously chopped and ready to use. You will be surprised that the spices and ingredients needed are mostly available at local grocers.
Well, not all the ingredients are easy to find. I use ginger in place of galangal though some stores do have it. If you live near Roseville, there is an Oriental Market 2 blocks from Trader Joe's off of Douglas. I bought frozen kaffir lime leaves and lemon grass there so that it will last a long time. They also have much less expensive rice noodles than most stores.  I have never found Thai basil so I usually use regular basil.
Try this Pad Thai. It is sort of the fried chicken of Thailand and fairly easy to make. The secret is that it must contain a balance of all these flavors: hot, spicy, sour,  salty, and a tiny sweet. In Thailand it is always offered with bowls of additional chopped peanuts, limes, and some form of chili.
Pad Thai
½ box of Thai Kitchen stir fry rice noodles, about 7 oz
2 tsp. sugar
1 tablespoon fish sauce or soy sauce
2 tablespoons oyster sauce
3 tablespoons cooking oil
4-5 cloves garlic, minced
About a quarter-pound tofu, drained and cut into squares
About a cup of cut-up chicken or shrimp, optional
1 egg (optional)
1 bunch green onions, sliced fine
Half a red pepper, cut in small pieces
¾ of a Serrano chili, finely chopped (adjust to your own level of heat. We used only half a jalapeno pepper)
About ¾ cup finely chopped cilantro/parsley mix
Lime juice to taste and about ¼ cup water
Mung sprouts, a couple generous handfuls
Serve with bowls of sliced lime to squeeze on, ground peanuts, and chili powder or some form of heat
In a small bowl combine the sugar, fish sauce, and oyster sauce. Set aside.
Bring large pot of water to a boil. Add the stir fry rice noodles; boil for 3-5  minutes then turn the heat off and let stand 8 to 10 minutes, stirring occasionally. Soak until noodles are soft but firm. Rinse under cold water and set aside. Drain very well,
Chop and set aside all ingredients as needed.
In a wok or large fry pan, add the cooking oil and then the garlic for 1 minute. Then add the chopped pepper, chicken and /or tofu. Stir fry 2-3 minutes until chicken turns white; then add the egg. Add the seasoning mix with the green onions. The last to go in is the cilantro parsley mix. Just before serving, turn off the heat and add the lime juice, noodles and mung sprouts.
The secret to good tasting Pad Thai is to set out bowls of additional hot pepper, slices of lime and chopped peanuts for each person to add themselves.
Prawn and Coconut Soup or Dtom Yum Goong
You can easily make this a vegetarian soup by eliminating the shrimp and using extra tofu. Also substitute soy sauce for the fish sauce. Remember tofu is full of water and will dilute your flavor if it isn't drained well. Place it in a strainer and put a large can of stewed tomatoes on top for 10 minutes.  As with other Thai dishes it is best to have everything chopped ahead of time before you begin the cooking process.
1 tablespoon vegetable oil
Half of a red or green pepper, cut into bite-size pieces
2-3 chilis chopped fine (I only used half of a Jalapeno chili, it wasn't quite hot enough)
About 8-10 medium shrimp, cleaned and cut in half
About ¼ pound well drained and cubed extra firm tofu
2 small tomatoes, cut into bite-size
5-6 mushrooms, sliced into bite-size
2 13-ounce cans coconut milk (not light)
2 stalks lemongrass, finely chopped (like green onions) and mashed
2-3 slices of galangal, cut thin or use about 1 tablespoon grated ginger to taste
3-4 kaffir lime leaves, sliced thin
2 teaspoons sugar
1 tablespoon fish sauce  (or more)
2 tablespoons lime juice or to taste (always add at end of cooking)
Green onions and cilantro, about ¾ cup chopped fine
In a medium size soup pot over high heat, add vegetable oil and partially sauté the peppers, cleaned shrimp, mushrooms, tofu and chilis; add the tomatoes, coconut milk and heat just until boiling. Then add lemongrass, galangal or ginger, and kaffir lime leaves. Cook 2-5 minutes.
Add the sugar, fish sauce, and lime juice just before turning off the stove.
Add chopped cilantro and green onions stirring them into the soup, Serve immediately.  Happy eating!!!!!