In the beginning, isolation was more than tolerable. It was a forced simplifying of our lives, and that was a welcome change. But these days it drives me into memories of times that were so sweet and that I took for granted.  Years go by and we Americans think working hard, making more money, keeping our material existence orderly—they all take precedence for way too much time. I don't think on my death bed I will regret not crossing more off my lists. What I do know is; I will remember the sweet moments of connection and laughter, time spent with fleshy warm, complicated human beings.
Our first adventure into travel was in 2011. I made the plans via the internet to stay at two different islands.
Koh Maak Island, Thailand
February, 2011
After months of planning and excruciating hours of planes and buses, we arrive at our resort, eat a quick lunch and wander along a beach on a deserted bay. The footpath meanders under palm trees along velvety sand. Finally, this is the freedom we dreamed of.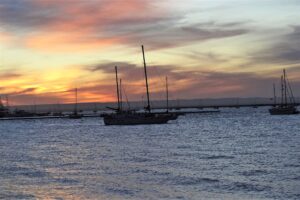 This side of the island is downwind. The beach is strewn with so much trash it is shocking, but also a fascinating menagerie of the human presence —long lost flip flops with mini shells clinging to them, pieces of colorful rope, all shapes and sizes of styrofoam, plastic water bottles, food containers from the tourist boats, and whatever else the commercial fishermen throw overboard.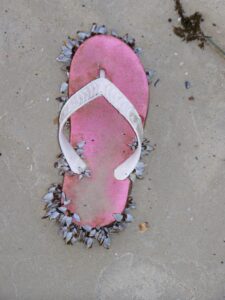 On our way back to our bungalow we stop by the swimming pool at the resort. I am sitting in the shallow water. A woman, about 45ish, is standing with a man across the pool. She wades her way towards me. Her sun streaked, curly hair and red balloon cheeks remind me of my sister. A playfulness dances in her eyes and the heavily accented English immediately tells me she's German.
       After a friendly hello she comments like an over eager puppy, "What happened to your back?"
"The one time I will spend days in my swimsuit and my back looks like I've been beaten," sheepishly I admit.
As David approaches she quips, "And you brought the wife beater on vacation with you?"
Laughing, I explain, " No, I had my first Thai massage yesterday with an enthusiastic ex-Buddhist monk. He had a special technique."
"I'm glad I didn't run into him."
We are both laughing, and I like her immediately. Later as David and I leave the pool, she calls to us again. "By the way, I'm Christine and this is my partner, Piotr."
That evening as we are leaving the beach after dinner, there they are again.  Like Tigger, Christine almost bounces in front of us. "Hello!"         Would you like to have dinner with us?"
"Great to see you again." I comment somewhat taken aback.
"We just finished eating," David says almost apologetically.
"Well, have another beer with us." Noticing our hesitation she continues, "Why not? You're on vacation."
"Maybe we'll have a dessert?" we chime in.
Piotr and Christine drag chairs around a plastic table.  I nuzzle my toes in the still warm sand.
Paddling to Koh Pi 
We've had several days of adventures, meals and laughter with Piotr and Christine. The four of us seem to be almost a perfect match, but this afternoon Piotr is quite upset. His subtle sense of humor disappeared. The maids confiscated his carefully washed sacks of "beach junk" thinking it was garbage. He is an art professor at the University of Berlin and is collecting these for a major installation of his work. The disappointment still simmers on his face.
"We'll help. We love to collect junk along the beach," David chimes in with his typical enthusiasm.
"I need to do this on my own," Piotr grumbles measuring out the words not allowing his feelings to boil over. Christine shrugs and ignores him so David and I let it go.
Leaving Piotr behind, the three of us head for the boat launch and rent two kayaks to paddle out to the tiny island of Koh Pi. Christine and Piotr snorkeled there yesterday and thought the water was clear enough to try again. Battling against intense winds, however, is extremely difficult. David and I have paddled for more than 15 years, but mostly in solo boats. We bicker as we attempt to work together.
"Either we can do this or the winds will beat us back to shore," David calls out starting to lose patience with my inability to cooperate.  Christine, more headstrong than the wind, appears to effortlessly glide through the choppy waters.
Nearly worn out, we pull our boats onto the island and moor them onto the rocks. We don masks and look like alien frogmen walking on the jagged volcanic rock. There are quite a few poisonous black spiny coral, but as we ease into the water it is evident we can float over the top. Wind is still strong, but now it blows across my back as I skim the warm water—blue and green corals and schools of fish swim everywhere. Mesmerized, I am a child in an underwater playground. Except for the gurgling sound of my breath through the snorkel, it is a silent world. I pop up to breathe in time to see Christine's enthusiastic wave. She's found a spot with good coral.
As we untie our boats to return, a large hawk swoops down onto a dead tree at the top of the island and captures a snake in its claw. It flies less than twelve feet over our heads the snake dangling and writhing. Its eminent end of life somehow reminds me of our own temporary existence.
With the wind at our backs, paddling home is more like sailing. On the distant shore of the cove where David and I walked yesterday, Piotr is a dark form carrying his bags of junk among the palm trees. We float into the shallow waters and he wades out to meet us. Christine and David tie the burlap bags of trash he's collected onto the tops of the kayaks.
We all flop into the turquoise blue water. It is warmer than the balmy evening air—temperatures in perfect balance. Floating in its womblike embrace little fish nip at my toes — salty water on my skin and wetness all around. Palm trees are etched against the ethereal light of a fading sky. I whisper a prayer of gratitude or is it a moan of pleasure at the altar of natural beauty.  Pain and pleasure merge as my mind knows that this too must end. The little snake in the claws of the hawk pops up in my mind.
Piotr swims back to the resort as our boats are full. It's dark by the time we paddle into the boat launch.
Bing Bang Bao
Famished, David and I borrow dry clothes from Piotr and Christine before heading to a restaurant for dinner. They have rented motorcycles so I hop on the back of Christine's. Not as confidant a driver, Piotr asks David to drive. The two men zoom up the hill and vanish from sight before we even discuss our destination.
We stop in the road and the men are nowhere to be seen. "Piotre is always in his own little world," Christine says with irritation in her voice.
"Oh, that sounds exactly like David," and we both laugh heartily at our similar dilemmas.
Finally reunited, Christine and Piotr quibble over which is the right road to the restaurant. A confidant Christine leads down a deeply rutted dirt road into the dark night toward the less developed end of the island and a Thai-family owned resort. Our English version we call Bing Bang Bao. (More and more Thai resorts and restaurants are corporate owned. That friendly, generous spirit of the Thai people and great food is found in family owned facilities. )
It's late by the time we arrive. The open air restaurant has emptied of customers. Children of varying ages run around playing and laughing while babies cuddle on grandparents' laps. The adults are collapsed into plastic lawn chairs, fatigue etched on their faces. Cigarette smoke dances in the night air.
"Restaurant closed," says the young man who appears to be in charge. Christine coaxes him with her enthusiasm and charm. He turns to the other family members. They  mumble to each other in Thai and relent. Children and grandparents disappear into the night. The adults go back to work.
"Kahp Koon Kah," we gush our thanks and bow to our hosts; then slide onto benches near the edge of the deck. The crude wood picnic table is covered in an orange and white plastic tablecloth with little cherries. The inky black water below reflects the colorful chili pepper lights that hang from the galvanized metal roof. Crickets sing incessantly, and night birds call to each other.
The waiter appears at our table. He sheepishly shows us a still wiggling fish he had left from the day's catch. "Sure, we'll take it," Piotr pipes up without a moment's hesitation. We've learned over the last few days that Christine and Piotr embrace the prospect of food with forks raised high.
"We should bless the fish if we're going to eat him," I comment as I raise my hands over the fish and the surprised waiter.
"Sure, whatever," the others comment sarcasm oozing between their teeth. The waiter's half smile of amusement broadens as he realizes the voluminous amounts of food we order, and we can hear them chuckling in the kitchen.
Raised in Berlin, Christine apprenticed with a photographer in New York City as a young woman and knows the words to many of the same "American oldies" that I do. We heartily embrace our off-key renditions as Piotr and David move the beer away from us even before it is open.
"Johnny Angel, how I love him. And I pray that someday he'll love me."
"Baby love, sweet baby love . . . . ." we sing joyously.
And the Dishes Just Kept Coming
Bowing, we say our good-byes and thank yous, " kahp koon kah" to the cooks; then head into the darkness and walk our motorcycles to the edge of the resort before starting the engines. I hop on the back and Christine begins winding through ruts on our way up the hill.
"I don't hear them behind us. Maybe we should go back and check," I yell over her shoulder. We turn around and soon find their bike lying on its side. David and Piotr a little dazed, but still jovial and only scratched.
"My bike slid out in a rut and now it won't start. It's definitely due for a tune-up," David bemoans.
"What do you think we should do?"
"Well, we obviously can't wake up the family and ask another favor," I add and we all agree.
"I'll ride back up to our resort and use the phone to call for help. Then come back," Christine says.
Deeper in the jungle there is an eery munching and crunching sound.
"That's the elephant hospital that we wanted to take you to," Christine says. They care for older, abused elephants—a sort of "retirement home."
" Great! You're going to leave us alone in the jungle with the elephants?" David protests half laughingly.
"They're fenced in!" Christine yells already revving her engine to head up the hill to call for help. I jump on the back laughing at the two of them, helpless in the dark jungle.
A night clerk at the resort makes the call, and we zig-zag our way back down the road.  Minutes later the Thai emergency vehicle, a pick-up truck with benches in back, arrives. The young drivers want to take David and I to our resort across the island. Another truck is on its way to pick up the motorcycle.  Rented motorcycles breaking down is quite common in Thailand. Before we even realize what's happening, we hug and say our good-byes to Christine and Piotr.
Far too quickly, David and I are whisked away in the back of their truck bouncing along sandy one lane trails that we had never seen in our five days of exploring the island.
"How much do you think this ride is going to cost us?" David laughs.
"I don't care, as long as they don't leave us dead in the jungle." We pull through a weedy trail that looks like nothing more than a fire break and suddenly we're at our resort. The drivers are smiling and seem quite amused to be rescuing the crazy tourists.
"No charge," the young driver says as he steps out of the truck. Another long sentence in Thai we think explains that their emergency services are free, but of course we don't understand a word of it. Nodding politely, we bow to them and say our well-rehearsed phrase, "Kahp koon kah."
Early the next morning, I am not sure where the dream of last night ended and this day begins. The sound of the surf laps against the shore of my consciousness as if there is salt water in my veins. Perfume of Frangipani flowers permeates our entire room, and giant cilantro shaped leaves rustle in the sea breeze against my window. I want to lie and listen to the waves for a thousand days.
Our new friends are journeying in the opposite direction this morning, and we must catch a ferry to the mainland. I feel a heavy sense of loss. Instant rapport between people rarely happens in life. How can you know two people for such a short time and feel deeply connected? Perhaps a part of that is being outsiders together in a new culture.
In truth, Christine and Piotr nudged us out of our usually cautious selves. As vivacious and enthusiastic as my younger sister and more willful than my daughter, Christine made me feel they were both somehow with me these past days. In essence and energy, Piotr is practically David's double. Two beautifully balanced men, both in their own little worlds, but living on opposite continents.
As we pack to catch the ferry, my body drags not wanting to move on. I am deeply grateful for the friendships and this hidden treasure of an island; bittersweet at life's merciless impermanence.
PS  Are you hungry for Thai food but can't go out?  My next piece will show you just how easy it is to make at home—and all the ingredients you need are in the supermarket.