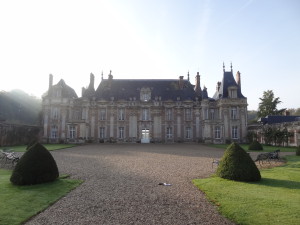 We're moving in! Actually, it started a year ago. I helped a friend, judy, with her garage sale when she was selling her house. She gave me a book called Gardens of  France. I wrote down ones I'd like to visit and Miromesnil Chateau was close to our route. As we were leaving the town of Rouen, we headed for the coast and the region of Normandy. It was almost 5 PM when we drove into the Chateau, known for its potager' garden. I assumed it would be way too expensive but we asked anyway and decided to stay.
David and I instantly liked the owner. He groaned when I said he must work terribly hard to maintain this place. It's Downton Abbey (but his name isn't Robert). He told us part of the history of the castle as we walked up the three creaking flights of stairs to our room. this house has been in his wife's family for three generations. Her grandparents bought it in 1938 when Europe and Hitler were looking iffy. They had 9 children and wanted to find a place that might be safe for them. Spent 18 months rejuvenating the house, and then it was requisitioned by the French army as a training base. Then the Germans seized it . At the end of the war, the Americans used it to finish their work . The house and their family survived all that until a young GI tried to make a fire with green wood in the kitchen and decided to pour a little gasoline on it. Only one half of house went up in flames.
The potager garden (kitchen garden) is surrounded in red brick walls. This keeps out critters, wind, and makes a lovely back drop. They've won several awards in France and are conscious about planning for changing weather patterns that are already beginning.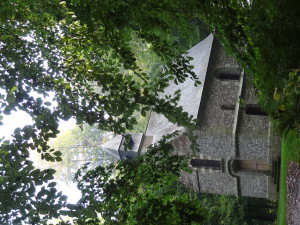 I walked out to the family chapel in the midst of the surrounding forest. It all smelled musty and mushroomy. Sunlight filtered through the beech trees as they began to turn yellow. Dedicated to Saint Anthony the Hermit, the small stone chapel built in the 11th Century was once a pilgrimage site. People from the nearby villages would walk here to bathe their legs in the pond (which no longer exists) to cure their varicose veins and other problems.
our room is round and the bath has a big claw foot tub. There are little doors in the halls that lead to little spaces—weird. At night the wooden shutters flap in the wind. I think they whisper "Heathcliff!" Oops! Wrong story wrong country.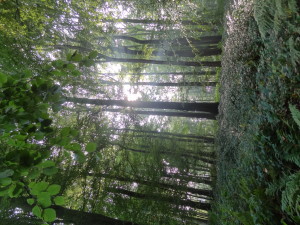 David and I have been cruising thru villages and getting lost on all the little back roads of Normandy. The countryside and the architecture of many village chateaus and farms is mesmerizing. The soil is a cafe latte color, huge John Deere tractors tilling it up all day long and rolling gentle hills of green.
It has been an incredible blessing to meet the owners and stay in this beautiful old house.  PS Can't figure out how to turn the picture.