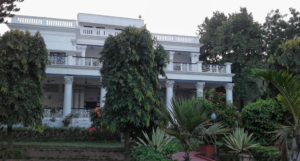 Kolkata, India
We all have pre conceived expectations misunderstandings of any new place or experience. I admit to a certain amt of fear of arriving in Kolkata, India at 1 AM. Purse well zipped, money under my shirt. The reality was/is much different.
One has to smile at the need to have 5 young men sitting at the official taxi booth in a fairly empty airport this late. I question their price to take us to Dakshineswar, a suburb that's barely a 15 minute drive, when a well-dressed business man steps up to be our advocate. After much haggling, questioning, negotiating an discussing (none of which we can understand), he assures David and I that we will do better somewhere else. He walks us to the next business, we discuss where we are going, look at google map. Another four young men sit munching their snack as "the boss" writes us a ticket on a piece of paper smaller than a 3×5 card. Ten minutes later he says, "Little more patience, madam". I look over the counter and make a motion of putting a little of their food in my mouth. The guys look confused and then David pretends he might take a nap on the counter. They all flash those radiant Indian smiles. Finally "the boss man" takes us out to the road where taxi is waiting – more discussing and negotiating while luggage is loaded into a beat up Toyota with a trunk that doesn't close properly. We cheer and finally leave the airport. This is India!
I had forgotten that in India everyone is overly helpful, full of advice, eager to please, and proud of their integrity. For the most part, quite charming. Different from most of the world's expectatios. The real danger is losing one's patience and sense of humor.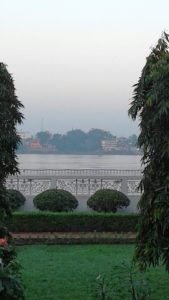 We wake the next morning to the swish swishing sounds of sweeping fallen leaves from the walkways of the ashram. Mist hangs over the Ganges. Retreatants gather on the portico for morning exercises as a bevy of birds dart in the trees overhead. The ferry putt putts across the river carrying people to work leaving a scent of propane in its wake. The noise, pollution, and busyness of India is outside, this is the eye of the hurricane.
Somehow I stand taller here, do my exercises with more intention. There's more air in my cells, more lightness in my mind. And my heart is filling up and spilling over. David and I feel like this is our home away from home.