Palapa on the Beach
Outside San Jose Del Cabo, Mexico
January, 2015
"Palapa on the Beach" the ad read on the Airbnb website. "Off the beaten track, just a short drive outside the city." My fantasies were off and running. I was hooked. Just the place for David and I and our friend, Jan, to spend our last few days in Baja, Mexico. The reviews all said that Elena, one of the owners, was a fantastic cook. In my imagination, she would fix the three of us delicious dinners after our days of exploring endless miles of undeveloped beaches. The short statement at the end of the ad, "water in short supply" didn't really catch my attention.
We started driving from San Jose Del Cabo, the village where the Sea of Cortez meets the Pacific at the southern tip of Baja. The Periclu Indians lived here for centuries lavishing in its fresh water and abundant marine life. Spanish galleons and many pirates sailed here and were jubilant to find an estuary covering several thousand acres filled with fresh, drinkable water. Today, this historic old town is still a thriving arts community. Its neighbor, Cabo San Lucas, has become a tourist mecca filled with condos and timeshares, restaurants and gift shops swarming with wealthy Westerners or Northerners as the case may be.
We drove out of town carefully reading the directions that owners, Le'on and Elena sent. In a very short time the paved road disappeared into a sandy washboard that our small rental car barely managed at 10 miles per hour. "Past the cement factory, left on the Coast Highway" the directions read. We laughed at the left turn–not the Coast Highway we were familiar with. It was barely two lanes- more sand, more ruts. When a water truck paused on a steep hill, David rolled down his window, "Donde este palapa de Le'on y Elena?" The driver pointed in the direction we were going, so on we went.
Saguaro cactus dot the jagged mountains in the distance and the sand dunes around us. In some places half the road washed out from the recent hurricane and signs blown over with arrows pointing to the sky. "One hour from town" quickly turned into two. Breakfast jostled in my stomach as if I'd pushed the button on a blender. The only thing certain was that this was the most untouched coastline we could have ever imagined—California a hundred years ago.
We had started to lose sight of the humorous aspect of our journey when Jan asked, "Do you suppose they might have exaggerated their advertisement a bit?" Finally, we spotted a palapa sitting atop a hill overlooking the sea and decided this must be the place. We turned up what looked like their driveway past abandoned trailers and run down shacks, pulling into a parking lot filled with rusted and retired vehicles.
Disappointment was beginning to take hold. David commented, "Perhaps we've been misled?" We wanted off the beaten track, but this was beginning to feel like lost in translation.
Walking into the compound of palapas was a little like reading a page out of Hemingway's, "The Old Hippie and the Sea." Le'on, who I later learned was 80 years old, called out a friendly hello. He balanced on the overhead beams of his workshop pointing and explaining a new roof system that would trap rain water. The smell of urethane stained boards was everywhere. His bushy white hair escaped the cap on his head. Muscular, but cadaverously thin, his weathered skin made him seem like someone you'd known before—perhaps from the Tolkien Trilogy?
Elena greeted us wearing a 1970's sand colored velour jump suit with no bra. Silver hair surrounded her shoulders and sea blue eyes. She was thin with a sinewy strength, not at all delicate. Like many women who have lived their lives in the dry air of a desert, her face was deeply lined like the ruts in the road we had come from.
Elena gave us the tour which only increased our disappointment. We paid a good price to stay here, and I had assumed certain conveniences. The pit toilet seemed tolerable, but the lack of a shower was hard to take. The biggest annoyance was that our palapa was not a private space, but in the midst of their lives. The main dining room palapa was less than 50 feet from our space. But from the open walls you could see ships on the horizon and cumulous clouds rolling over the sea.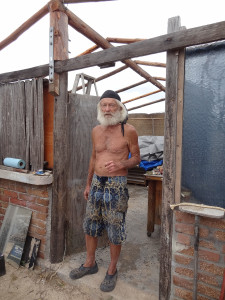 That afternoon Leon came into the kitchen swearing. His saw was not functioning, and more boards were rotten. "Paradise ain't all it's cracked up to be," he declared with a wry humor that we later came to appreciate. Another resident, Behrto, who I might guess was about 65 years old, walked in and calmly offered afternoon coffee. He had taught English in China for many years and was helping out here since the last hurricane. He had just caught dinner off his kayak and was on his way to cleaning and filleting it.
Seven of us sat around a poured concrete table that night. The fish was served Veracruz style with a creamy tomato pepper sauce and a hint of heat. Grated red cabbage, carrots and jicama marinated in lime juice with rice and black beans—simple but delicious. Homemade beer made for great conversation but was barely drinkable.
As remote as these people lived, they were well connected with Internet. Each had fascinating stories to tell and was extremely well read. Le'on used a small black amplifier to pull music in from all over the world. Conversations drifted between obscure Russian composers to philosophy to driving in China to the corruption of governments and hopeful signs in the world. Elena, who had been fairly quiet, told an incredible story of riding out a hurricane alone in the palapa. By the end of the evening our original disappointment at the rustic nature of the place was fading. What it lacked in modern amenities it was definitely making up for with character and stunning natural beauty.
Sleep came quickly and deep to the sound of the waves crashing against the shore and the wind whistling outside the palapa. The early morning quiet was broken by the chirping of our resident gecko. Two eager puppies appeared to nuzzle and lick my face as if to say, "Don't sleep through the incredible sunrise." I grabbed my camera and shoes. As the sky slipped out of its dark veil, the radiance of morning changed moment by moment.
Behrto was already awake when we walked into the kitchen. He handed me his binoculars. A school of whales were playing in the waters not far off the shore.
Le'on shouted over the wall as we finished eating. "The sun's out and winds are calm. If anyone wants to swim, this is the time." We watched this 80 year old scramble down the cliffs and slide down the sand dunes with a surfboard under his arm. David, Jan, and I looked at each other and smiled. "I think I could live like this," David said as we grabbed our sandals and hats and headed toward the beach.
.